The Fresh Skin Clinic
29 Church Street Macclesfield Cheshire
The Fresh Skin Clinic is moving to its new forever home.
29 Church Street, Macclesfield, SK11 6LB (opposite The Castle)
To book an appointment:
Call   01625 619 383
Email   info@freshskinclinic.com
Or to contact the Clinic directly click here 
Based in Macclesfield Cheshire, The Fresh Skin Clinic is owned & run by Joanna Manton.
Joanna is a NHS trained registered nurse prescriber and an extensively qualified practitioner, steeped in NHS best practice.
Joanna and her team have become a trusted source of advice for cosmetic & medical skin therapies and promote a fresh & natural look with a light touch philosophy.
Established in 2009, the Fresh Skin Clinic offers a range of injectable botulinum treatments (sometimes known as Botox), Juvederm, Belletero or Teosyal filler, anti ageing, skin rejuvenation & cosmetic therapies. 
The non-surgical cosmetic treatments are offered alongside more medical procedures such as laser treatments for hair & tattoo removal and rosacea therapies & sun damaged skin treatments; plus family acne treatments, prescription only acne therapies such as Obagi, and cryopen treatments for skin tags & warts etc.
Prior to any procedure, The Fresh Skin Clinic provides a detailed consultation working closely with the client whilst listening to understand what is required. Most often, a full medical history will be taken followed by a medical skin assessment. The data will be captured using medical consent forms and questionnaires. This information is also used to determine your skin type. Finally, a recommended treatment plan tailored to each client will be agreed.
The Fresh Skin Clinic engages in continual research into the latest developments in the field such that Fresh is confident it provides the most effective contemporary treatments.
Click to visit the Online Store to view the range of products currently available from the clinic or for home delivery.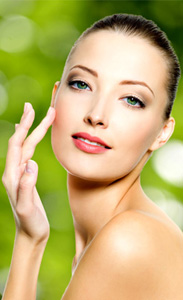 Click edit button to change this code.