Profhilo –  a true breakthrough in anti-ageing medicine!
PROFHILO has been hailed as "a true breakthrough in anti-ageing medicine", "a major advance for difficult to treat areas" and "a real game changer" to name a few! Patients experience minimal discomfort and you can return to normal activities immediately after treatment as no recovery time is necessary.
• First injectable hyaluronic acid for skin remodelling and treating skin laxity
• For treatment of face, neck, décolleté, hands, arms
• 2 treatments recommended to prolong the effect, one month apart
• It has been proven that Profhilo stimulates 4 different types of collagen and elastin
• Effect will last for 6 months
• Safe, innovative, effective product
• Studies have proven "tissue healing properties"
The Treatment
For a facial treatment five points on each side of the face recommended by cosmetic surgeons to lend structual support to the facial features are measured and marked, and a small syringe is used to inject the solution about 3mm beneath the skins surface (it takes about 10 seconds at each site) A quick massage and your free to get on with your day!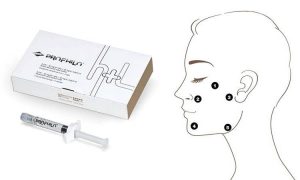 Results:
Skin looks instantly tighter; a month later following a second treatment, new collagen and elastin starts to become apparent; and by the time you have finished your face will look lifed.
Before and After.
Feel free to call us or email us to discuss all your options regarding anti-wrinkle treatments.